A series of letters that lost their way
This card says nothing more than:
Love 

Mandie

x
It was sent on 25th February 1988 from Leicester. Mandie is a bit of a regular yet I know little of her other than the basics; she attended Leicester Polytecnic during the period she writes to Richard and I assume she studied a fashion or design degree.
It was cards like this one that led me to believe Richard had been actively trying to collect postcards, others will state how they almost forgot to post one or they did indeed forget but hand deliver them at a later date to make up for it. 
I think this is one that got forgotten until returning to the UK as the image details on the reverse are in French. 
Mai 68

Photographe: Gilles CARON Gamma
Gilles Caron was a political photographer and reporter whose career was short (a mere three years) but prolific. Prior to photography he worked in horse racing and had served as a paratrooper in Algeria before being sent to jail for refusing to serve the operation he opposed. 
He did find himself on the front line soon after, only this time armed with his camera. Working for the Gamma agency, Caron covered major conflicts and this particular image is from the Paris Riots of 1968. Taken on Rue Saint-Jacques the image is now a symbol of the student revolution. It was only two years after this shot was taken that Caron went missing between Cambodia and Vietnam and was declared dead.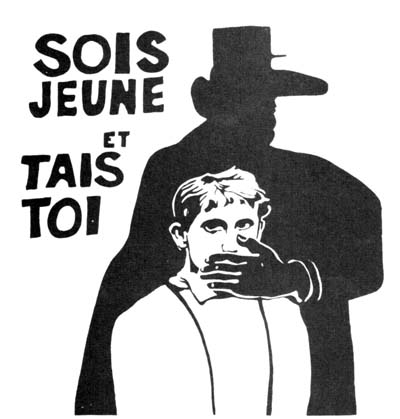 'Be Young and Shut Up'
The exact politics behind the Paris Riots is difficult to pin down but a police invasion of Sorbonne university sparked the first protest march and after a bout of police violence workers too joined in on the protests citing poor state salaries, centralisation and discrimination.
Soon there were 10 million workers; two thirds of the French workforce, all taking part in the very first wildcat strike. Wildcat strikes are those without the backing of any trade union and this 10 million strong force was the largest general strike ever, almost collapsing the De Gaulle government. 
Almost.
Ultimately, the strike was a failure with the existing government calling for an election and emerging stronger than ever but the social impact on France was obvious and still remains to this day. The people of France embraced the idea of a more liberal culture regardless of the actual principles of the government. The term Mai 68 was coined and is used to this day to refer to a shift in principles.
I wonder whether Richard and Mandie were embracing their own anarchy when she chose this card.